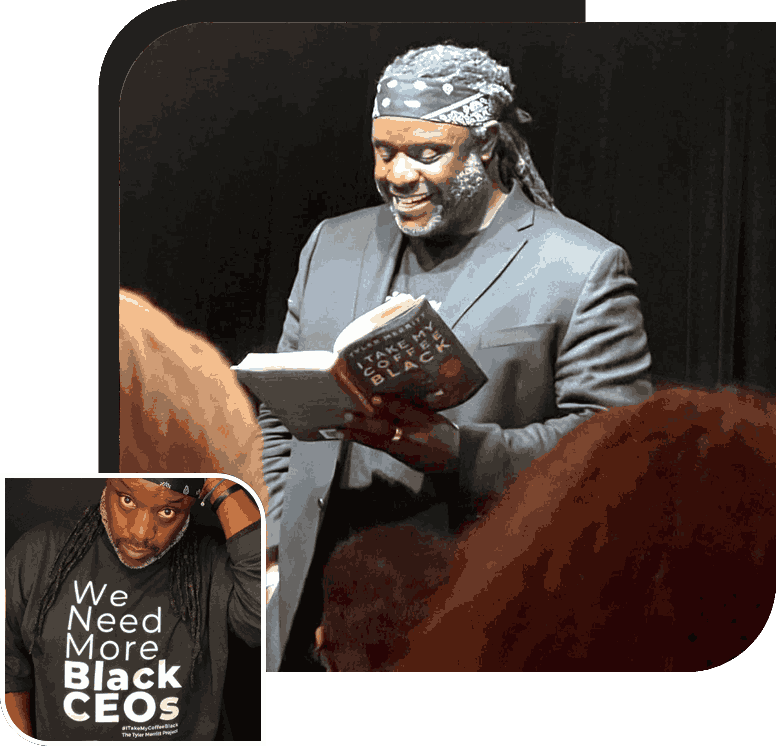 The Tyler Merritt Project Speaker
─ Virtual Events & More
Tyler Merrit is available for select paid in-person or virtual events, including conferences, keynotes, lecture series, library visits, convocations, First Year Experience events, community reads, school visits, and more.
Are you interested in having Tyler speak at your function? Find out more details here.
SPEAKING TOPICS
(including but not limited to)
Based on his memoir of the same name, Merritt shares stories from his life and paints a portrait of black manhood in America with a unique blend of humor and gravitas. From growing up in Las Vegas in a multi-cultural community and realizing that he wasn't always welcome, attending a small Bible college in Santa Cruz because he thought they had a great theater program (they didn't), to his career as an actor, author, and activist, Merritt gives audiences a glimpse into his world, at turns laugh-out-loud funny, at turns unexpectedly candid. Throughout his talk, he seamlessly weaves in lessons about privilege, the legacy of lynching and sharecropping, and the history of encoded racism that still undergirds our society today while also taking a kind-hearted approach to examining ourselves through the lens of humor.
DEI and The Power of Proximity
Diversity, equity, and inclusion (DEI) isn't a term reserved exclusively for Human Resources departments. DEI exists because it represents real people with amazing stories, rich backgrounds, and varying life experiences. In this talk, Merritt covers tangible ways companies can harness the power of DEI by encouraging employees to see their co-workers for who they are while building empathy for each other. He explains how the power of proximity to those who look different than us is key to building true empathy in the workplace and is the cornerstone of successful DEI efforts.
IT'S NOT OVER: Grace, Love, and Being Bigger Than Our Mistakes
During this tumultuous time when the threat of cancel culture looms over us, how do we reconcile our ability to take chances, make mistakes, and rebound from failure? Is human potential being held back by the fear that our mistakes are bigger than our call to purpose? In this inspirational and humorous talk, Merritt examines these timely topics and provides a roadmap for recognition, grace, hope, and redemption, with plenty of laughter along the way. He discusses how we can keep ourselves from falling into the trap of judgment, learn to lean into empathy and understanding, and help ourselves and others view mistakes as valuable lessons that help us move forward in humility and power.
A SAFE PLACE: An Experiment in Discussing Our Differences
In this interactive talk, Merritt replicates the Safe Place experiment from his book; I Take My Coffee Black. Working closely with organizations, he brings together individuals from varying political, racial, ethnic, and religious backgrounds to participate in face-to-face discussions about hot button topics to encourage healthy and safe – and sometimes even humorous - dialogue. By stepping out from behind the safety and anonymity of computer screens and social media, Merritt shares ways for individuals to engage more productively, no matter the issue at hand.