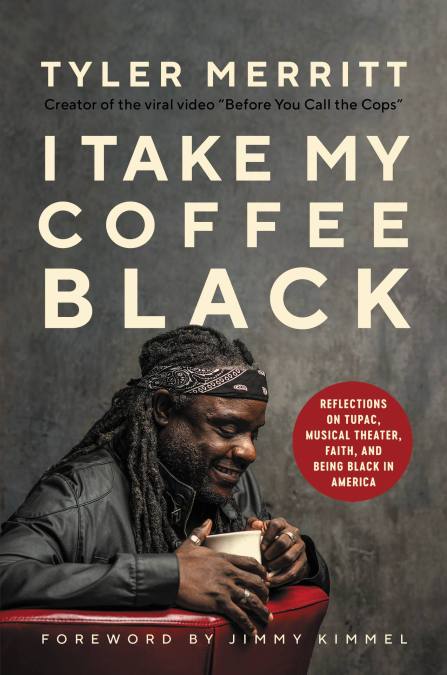 I Take My Coffee Black Reflections on Tupac, Musical Theater, Faith, and Being Black in America
─ a Brief Overview
In I Take My Coffee Black, Tyler tells hilarious stories from his own life as a black man in America. He talks about growing up in a multi-cultural community and realizing that he wasn't always welcome, how he quit sports for musical theater (that's where the girls were) to, how Jesus barged in uninvited and changed his life forever (it all started with a Triple FAT Goose jacket) to how he ended up at a small Bible college in Santa Cruz because he thought they had a great theater program (they didn't). Throughout his stories, he also seamlessly weaves in lessons about privilege, the legacy of lynching and sharecropping, and why you don't cross black mamas. He teaches readers about the history of encoded racism that still undergirds our society today.
By turns witty, insightful, touching, and laugh-out-loud funny, I Take My Coffee Black paints a portrait of black manhood in America and enlightens, illuminates, and entertains—ultimately building the kind of empathy that might just be the antidote against the racial injustice in our society.
You can find my book here.
Testimonials
"A sad, happy, moving, troubling, inspirational, humorous and brutal account of the people and experiences that formed this exceptionally well-formed man... (Tyler Merritt) … subtly and kindly reminds us of how much we have in common and that assumptions are made by fools."
―Jimmy Kimmel
FANTASTIC! You NEED to read this book!
If you know how to read or have ears you NEED this book in your life. It's challenging, it's beautiful, and it's extremely well read (I could listen to him read anything). From the very minute when he decided to read it his own way he had my attention. His story written is something we can all learn from, and maybe it will encourage you to think twice when you see others just living.
-"The Irish people speak of thin places… When something touches a humans soul and he or she is gripped by Something More." This book brings something more. His love, his faith, his humor and heart, his hurt, and his humanity are captured so well in these pages. And there are Hamilton references. Which if you know me you know I LOVED. Most of us know and believe that our stories, our testimonies are not just for us but are meant to be shared so others can see the Grace of God in our lives. If you're willing, you will learn. This story is raw. It's real and unreal and it's amazing to see where it leads. Y'all go buy this book.
Jameka L
Reading I Take My Coffee Black was like taking a leisurely walk with a close friend filled with laughter, joy, tears, and real talk. I'm looking forward to a sequel from the author that continues the conversation.
Lynne B.
Tyler's story will open your eyes and your heart. He's the friend we all wish to have and the one we all need to be. You will laugh and cry as you follow along with his life and come to see the world through his eyes and experiences. I promise you will not regret reading this book. I got the audiobook and got the extra pleasure of having Tyler read it to me. He does an amazing job! Seriously, get this book.❤️
Kristy R.
Tyler Merritt is a national treasure.  His stories of the joys, pathos, and terrors of being a Black man in America will make you laugh, leave you in tears, and feed your mind and your soul.
Joy Reid
host of the MSNBC's The ReidOut and Author
Tyler is a gifted storyteller that masterfully threads the needle of pain and triumph. This is one man's story, but you soon see that it is connected to a great consciousness that connects through us all.
Roy Wood Jr.
Correspondent, The Daily Show with Trevor Noah
The skin we live in is the first thing anyone notices about us and Tyler tells the story of living in his with understanding and a truly warm heart. Reading about his life, in his skin, reminded me that however different our stories are, however different our skins are, Tyler is the friend we all need in our lives.
Adam Duritz
founding member and front man of Counting Crows
A whole bunch of love wrapped in a nice warm cup of coffee. Black, of course. A beautiful perspective of Tyler's bravery to face his truth and live in it as a black man in America.
Rutina Wesley
actress, True Blood and Queen Sugar
Powerfully incisive and with the impact of a ton of bricks, Merritt has written a crazily amazing story about growing up, loving hard, and learning how to appreciate being black! Tyler encounters the world by walking straight into it with a sense of awe and 'what the hell?!' and reminds us that's probably how it should be.
Michael Steele
former lieutenant governor of Maryland and former chairman of the Republican National Committee
Wonderful insight into what it is to be a black man in our world. His stories are educational, relatable, touching, thought-provoking, and will make you laugh so hard you might pee yourself a little bit.
Wells Adams
radio and television personality
Tyler takes us into life-all of its pratfalls, frustrations, and triumphs. I Take My Coffee Black is an entertaining and provocative read from one of our most important voices, at a time we need it most.
Charles Sykes
founder, editor-at-large, The Bulwark