Author of I Take My Coffee Black, Actor, Speaker, Musician, and Content Creator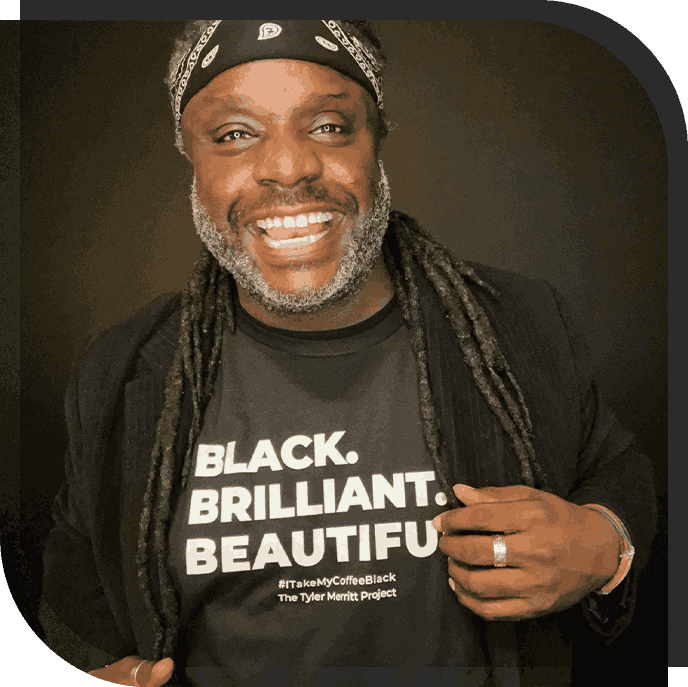 Actor, Comedian, Vocalist & More in
Nashville, Tennessee
Tyler Merritt is a Nashville-based actor, comedian, vocalist, and creator of The Tyler Merritt Project. His television credits include ABC's Kevin Probably Saves The World, Netflix's Messiah, Netflix's Outer Banks, Apple TV+'s series Swagger, Disney+/Marvel's series Falcon and the Winter Soldier, NBC's Ordinary Joe, Lifetimes Don't Sweat the Small Stuff, and A24's upcoming feature film The Inspection
His viral video "Before You Call The Cops" (released by The Tyler Merritt Project) has been viewed by over 100 million people worldwide and voted one of the Top 20 videos of the year by NowThisPolitics.
He is also the author of the memoir I Take My Coffee Black: Reflections on Tupac, Musical Theater, Faith and Being Black in America
As a 6'2" dreadlocked black man living in the South, Merritt is well aware of stereotypes and their potentially dangerous consequences. In response, Merritt has devoted his creativity to bringing his ethos of "Love. Learn. Create." to life through his words and videos as part of The Tyler Merritt Project.
Merritt takes his audiences along with him on a journey of contradictions: at turns both funny and sad, mysterious and relatable, commonplace and dangerous, he shines a light on "full-spectrum humanity" (The New York Times) that makes an impactful and relevant message. Merritt's emphasis on humility and connection provides an urgent roadmap during turbulent times, challenging audiences to see our differences as a unifying force for humankind and to "get to know me before you call the cops."
In his talks and lectures, Merritt infuses his core beliefs of unity, empathy, compassion, and inclusion with humor, making his message relatable and accessible to wide-ranging audiences from corporations, non-profits, community groups, colleges, and universities, and youth audiences worldwide.